Rain or Shine Studios 
A Location Dedicated To Production
Come, Shoot, Walk Away… We Do the Rest











Please call 917.596.7579
For Rates and Availability
Rain or Shine Studios was designed with the photographer and filmmaker in mind. It is a RESIDENTIAL SHOOTING SPACE geared towards photography. 
Founder and veteran photographer, Brian Jordan, designed Rain or Shine based on his 20 plus years as a commercial photographer. His goal was to create a space that is easy to work in and fully dedicated to production. 
The concept is simple; COME. SHOOT. WALK AWAY. 
There is no photographing the location before you shoot, there is no resetting the furniture and props at the end of a long shoot day. You spend your time at the end of the day as you should; gathering your equipment and making sure you got the shots.
When you arrive, the location will be set and dressed as pictured with photo friendly furniture and props that can be arranged as you see fit. If you would like to redress a portion of the studio simply clear the studio props into the bins we provide and put them to the side, we do the rest.
We have a STYLING KIT on premises (commercial steamer, two irons, ironing boards, rolling racks, hangers), make up stations with lighted mirrors, and desk space and seating for 10 production staff upstairs away from the main set. The bed is a split queen so it is easy to dismantle to make room on set, build into one queen sized bed or assemble as two twins.
The environment is as pictured but there are also additional wall hangings, props, plants and items of interest on hand  to help fluff up your shots. You are encouraged to mix and match items from inside, outside, upstairs and down. There are decks, cobble stones, grass and gravel outside which creates a multi textured environment punctuated with outdoor furniture.
We are situated across from a TGI Friday's and multiplex movie theatre so there is PLENTY OF PARKING for big productions that require motorhomes, equipment trucks and catering vans. There is a double gate in our backyard that opens out to the TGI lot which makes loading in and out very easy. SATELLITE VIEW
The house is set on an 8,000 square foot, fenced in, waterfront lot with great views of Shell Bank Channel and a 5 minute walk to Plum Beach. The property is organically landscaped with fruit trees, indigenous gardens, grape vines, a fire pit and there is water access through our rear gate to the boat docks. The light is beautiful from sunrise to sunset.
Located just 10 miles from JFK Airport and 20 miles from Midtown Manhattan; 
Rain or Shine Studios is the closest "getaway" in New York.
Rain or Shine Studios
2 Plumb Third Street
Brooklyn, NY 11235
917.596.7579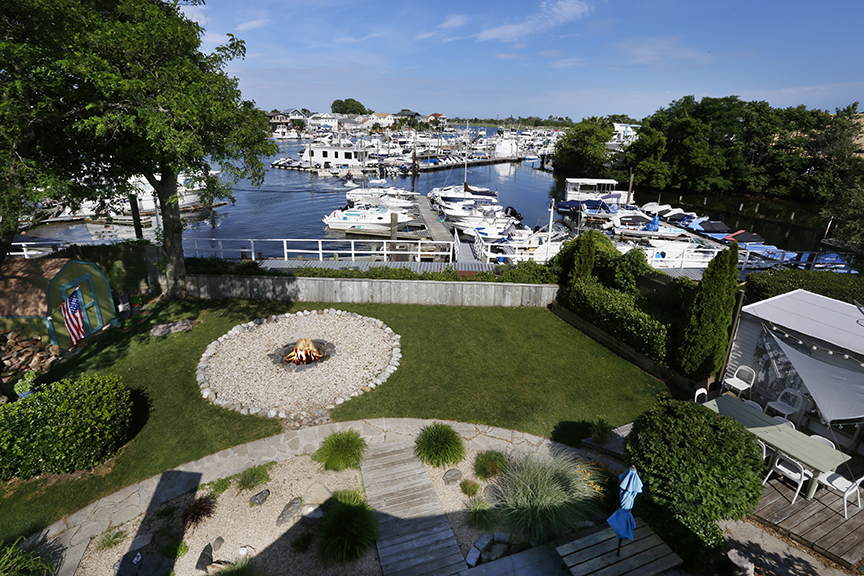 Some of the brands that have shot at Rain or Shine Studios.